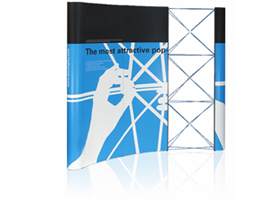 If you already have an exhibit booth (umbrella booth), we will wrap your existing structure with your new visual creation , regardless of its brand or where it was originally manufactured: duo.Blue, duo.Hit, Burst, Nomadic, Skyline, paragraph, etc.
Our high-resolution printing process on polyester and our highly durable antireflective lamination produces the best high-impact resistant images on the market. All our products with laminated finish are opaque, bringing out the only the best in your visual.
We also design and produce banners for all models and brands of banner stands, be they retractable or telescope: Parapost, Rollox, duo.sprint, Roll up, etc.