CUSTOMIZED 3D LOGOS AND CUTTINGS
---
If life in 2D is trivial for you? We will highlight your message with our 3 dimensional logos.
Thanks to our digital cutting department, our manufacturing workshop, our adapted painting service and our installation service, we are able to create beautiful 3 dimensional letters and logos tailor-made for you.

We also offer you a large selection of materials depending on use and location; PVC, aluminum, wood, exterior foam or precious GOLD-plated letters, ask us and have it executed.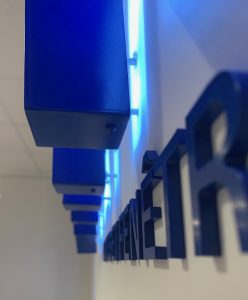 We also master the different types of lighting; from face, hidden behind, by the sides or even in transparency, we will taken care of it.
Whatever the format, perspective or positioning, we will impress your visitors with breathtaking 3D creations. Whether you ask us for a wall logo, a giant message on a podium or for a sign, your project will be perfectly made and well installed.
Challenge us, in 3D.
Add a personalized touch to your building.
Find out more about our projects achievements below
Click here to see our bespoke interior design projects on our Flickr page